(S06E011) Previous Episode
Aired On 2018-02-01
After responding to a time-sensitive rescue, Casey and Severide don't see eye to eye on the best course of action. Herrmann struggles to entertain his daughter on "bring your child to work day." Brett is joined by a surprise guest during a spa getaway, courtesy of Dawson, while Kidd's social life gets a boost.
Next Episode (S06E012)
Airs On 2018-03-01
After photos of Casey and Severide jumping off the roof during a heroic rescue make the front page of the newspaper, Boden unwillingly agrees for the photographer to chronicle a day-in-the-life story at the Firehouse. Dawson and Brett are on a mission to find out what keeps happening to Gerald, a frequent flier they know who lives on the streets. Meanwhile, Herrmann decides to take up life-coaching as a side job and Kidd makes a decision regarding her living arrangement with Severide.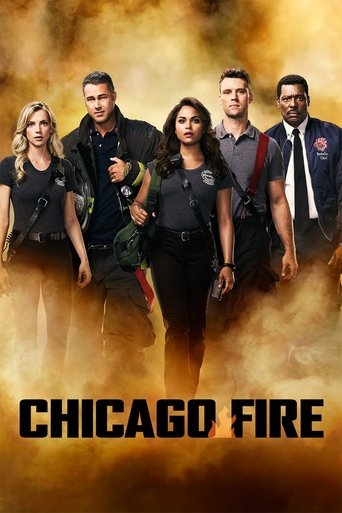 An edge-of-your-seat view into the lives of everyday heroes committed to one of America's noblest professions. For the firefighters, rescue squad and paramedics of Chicago Firehouse 51, no occupation is more stressful or dangerous, yet so rewarding and exhilarating. These courageous men and women are among the elite who forge headfirst into danger when everyone else is running the other way and whose actions make the difference between life and death.
Writing:
Michael Brandt
Derek Haas
Stars: