(S09E015) Previous Episode
Aired On 2018-03-07
When Jay overhears Gloria on the phone talking about spanking, he assumes she is frustrated in the bedroom. When he attempts to light the spark again by giving her exactly what she wants, he realizes he might have made a mistake. Meanwhile, now that Mitchell has an amazing new job, he and Cam throw a party to rub it in Cam's friends' faces so they can no longer give him "the look of pity".
Next Episode (S09E016)
Airs On 2018-03-21
The family goes on a wine tasting trip and stays in Haley's new boss' country house where the only rule is: Don't touch the tiara! Meanwhile, Gloria and Mitch are invited to a party at Oprah's house but can't bring anyone else.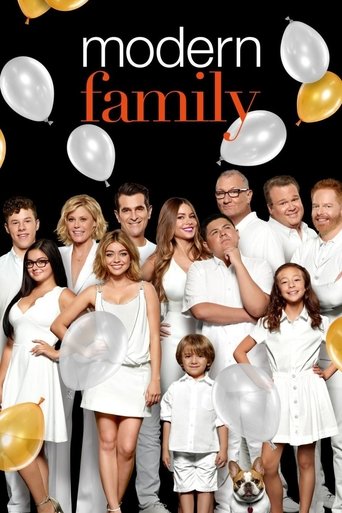 The Pritchett-Dunphy-Tucker clan is a wonderfully large and blended family. They give us an honest and often hilarious look into the sometimes warm, sometimes twisted, embrace of the modern family.
Writing:
Steven Levitan
Christopher Lloyd
Stars: